| | | |
| --- | --- | --- |
| | | Totally Twisted Karaoke |
| 214-697-9657 | | |
| | | |
TOTALLY TWISTED KARAOKE™ HAS BEEN VOTED

BEST KARAOKE IN DFW


BY THE DALLAS MORNING NEWS PEOPLE'S CHOICE FOR 2023!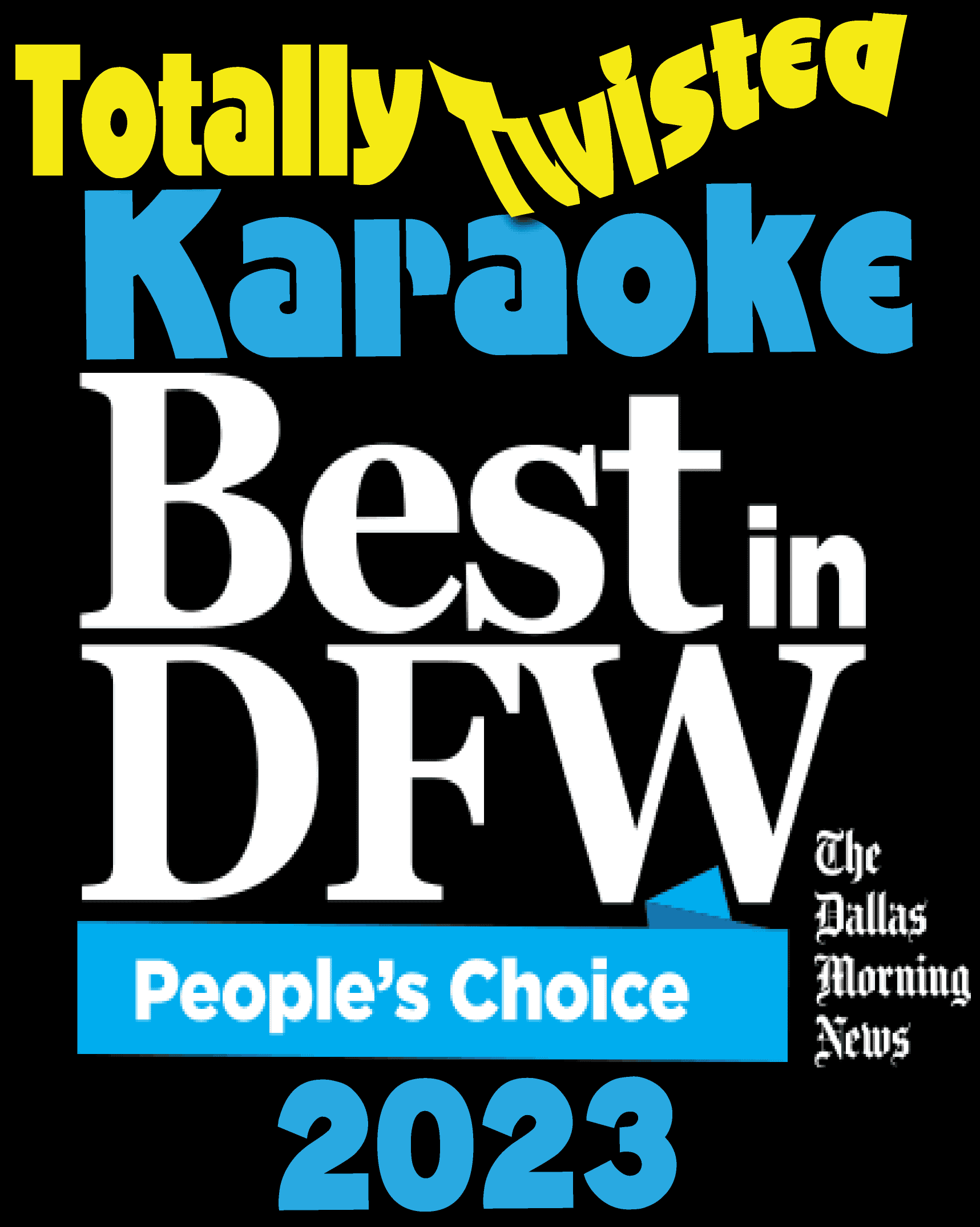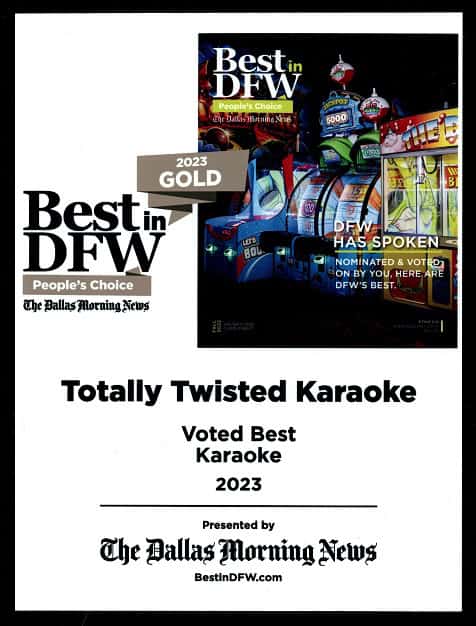 Please check our WEEKLY SCHEDULE or FOLLOW US ON FACEBOOK for the list of public karaoke shows we are currently hosting.
---
---
Totally Twisted Karaoke™ provides professional karaoke services for private parties, special events, bars, clubs, restaurants, whatever you can think of!  We will bring the party to your location, set everything up, and help you entertain your guests.  All you need to do is pick out your song, sing, and have fun!  Whether you are a novice or a karaoke junkie, we offer the most up-to-date selection of karaoke music available.  We believe that QUALITY, not QUANTITY is the key to great karaoke. Many companies advertise they have up to 100,000 songs in their library. However, that usually means they have a lot of duplicate song titles and older releases. Our focus is on building the most comprehensive and diverse library of songs so we purchase all the newest karaoke releases each month as soon as they become available.  We have karaoke songs in genres ranging from Gospel, children's songs, spanish, showtunes, duets, parodies, rock, rap, country, pop, standards, classic rock, 80's, and everything in-between. We make sure that YOU always have the most current karaoke music to sing! We will also accomodate your special requests if you find that we don't have the song you are looking for. You can email us anytime and we will do our utmost to add it to our library as soon as it is available.With Totally Twisted Karaoke™, you can search our library and submit your songs to the KJ using our convenient computer kiosk, or you can use your own smartphone right from your table! No more old, outdated, tattered songbooks and slips of paper!
There is a difference between karaoke service providers!! At Totally Twisted Karaoke™ we strive to have the most diverse selection of music, new and state-of-the-art equipment, professional sound, and professional KJs who manage a fair and FUN karaoke experience for our clients.


TOTALLY TWISTED KARAOKE™ - BEST KARAOKE IN DFW 2023!
---
---
---


AVAILABLE NOW!
SPEED QUIZZING TRIVIA!


TTK also offers Speed Quizzing Trivia! 5 20-question rounds of trivia played via smartphone or tablet! Individual players or teams. A 2-hour standalone session is $175, or $125 when booked ahead of a 3-4 hour karaoke show or private party.
---
---
---

Totally Twisted Karaoke™ won Best Karaoke in DFW for our show at Harwood Tavern in 2022, and this year we won overall in 2023!
---
---
---


We do private parties for any occasion! Karaoke is an activity anyone can do, regardless of age! Kid's parties, birthdays, graduations, reunions, holidays, receptions, you name it! We have performed karaoke for schools, charity events, corporate events, even a backstage VIP party at the 2012 Mayhem Festival at the Gexa Energy Pavillion! Yes, real rock stars DO sing karaoke!! In addition to private parties, we also perform public karaoke shows throughout the week in various locations. Check the "Weekly Public Karaoke Shows" link for our most current weekly schedule of public karaoke shows!

We are a full-service karaoke provider. What that means is we bring out a professional karaoke system to YOUR location and give you the best karaoke experience you will find anywhere in DFW! We do all the work so you can concentrate on having fun with your guests. Check out the "Services" Link above for all of the services that we offer, including private parties and bar karaoke! Let us take the worry and hassle out of entertaining your guests at your next event!
Call us to schedule your party!
A PRIVATE Karaoke Party is $125 per hour (3 Hour Minimum)
Totally Twisted Karaoke™....NOW it's a PARTY!!

214-697-9657
Call or Text to check availability for your event.
Totally Twisted Karaoke™ is a registered trademark U.S. Serial No. 85788434
Sound Choice© Gem Series Licensee # G95289905
Chartbuster© Registration # R53014737
karaoke, DFW karaoke, Dallas karaoke, McKinney karaoke, Irving Karaoke, Ft. Worth karaoke, Euless karaoke, Bedford Karaoke, Denton Karaoke, Cedar Hill karaoke, Oak Cliff karaoke, Uptown karaoke, Gayborhood karaoke, gay friendly karaoke, lesbian friendly karaoke, Pekers Bar, Inwood Tavern, Boozers Bar, Shenaniganz karaoke, karaoke rental, karaoke service, karaoke party, kereoke, kareoke, karoke, singing, parties, nightlife, arts, entertainment, bars, clubs, service, DJ, DJ service, DJ party, singing party, private party, special event, KJ service, karaoke jockey, disc jockey